Laurene Powell Jobs's Quotes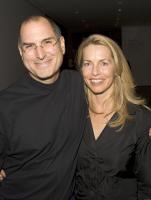 See the gallery for quotes by Laurene Powell Jobs. You can to use those 7 images of quotes as a desktop wallpapers.
How about we agree upon what our common American values are, which is let's make this a true land of opportunity.
Tags: American, True, Values
My relationship with money is that it's a tool to be self-sufficient, but it's not something that is a part of who I am.
Tags: Money, Tool
I started getting more and more active around immigration reform because this was such a waste of lives, such a waste of potential, such a waste for our country not to have the human capital that we developed - geared toward improving our entire society.
Tags: Country, Human, Society
Visit partners pages