Nick Carter's Quotes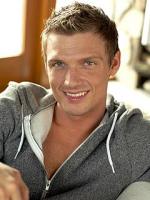 See the gallery for quotes by Nick Carter. You can to use those 7 images of quotes as a desktop wallpapers.
Visit partners pages
Much more quotes by Nick Carter below the page.
I freak out if I go a little too long without being in the gym. For a long time it was all about getting the weight off because I was 240 pounds at my heaviest, and now I'm around 175, so the majority of that weight loss was due to diet and exercise.
Tags: Diet, Off, Time
It's like Forrest Gump said, 'Life is like a box of chocolates.' Your career is like a box of chocolates - you never know what you're going to get. But everything you get is going to teach you something along the way and make you the person you are today. That's the exciting part - it's an adventure in itself.
Tags: Career, Life, Today