Paul Lynde's Quotes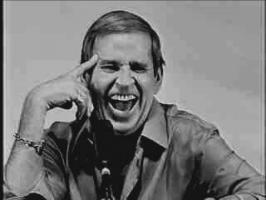 See the gallery for quotes by Paul Lynde. You can to use those 8 images of quotes as a desktop wallpapers.
Visit partners pages
Much more quotes by Paul Lynde below the page.
I don't know who the hell Paul Lynde is, or why he's funny, and I prefer it to be a mystery to me.
Tags: Funny, Hell, Why
I have an ulcer. It has an IQ of 185.
Tags:
I have this beautiful antique silver wine decanter that I bought at an auction. I always pour wine from that.
Tags: Beautiful, Silver, Wine
If I ever completely lost my nervousness I would be frightened half to death.
Tags: Death, Half, Lost
If I'm not working, I don't know what to do.
Tags:
Working
It was the worst moment of my life. The producer came up and talked me back into going on stage.
Tags: Life, Moment, Worst