Thomas E. Donilon's Quotes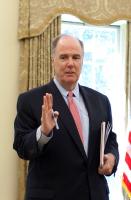 See the gallery for quotes by Thomas E. Donilon. You can to use those 7 images of quotes as a desktop wallpapers.
I don't think anybody has indicated that I did anything but do my job at Fannie Mae.
Tags: Anybody, Job
More terrorists and extremists have been captured or killed in Pakistan than in any place in the world.
Tags: Pakistan, Place, Terrorists
President Obama has been clear about the future that the United States seeks... when it comes to the Asia-Pacific, the United States is 'all in.'
Tags: Future, President, United
The U.S.-China relationship, of course, has elements of both cooperation and competition.
Tags: Both, Elements
I urge North Korea's leaders to reflect on Burma's experience. While the work of reform is ongoing, Burma has already broken out of isolation and opened the door to a far better future for its people.
Tags: Experience, Future, Work
Visit partners pages