William McKinley's Quotes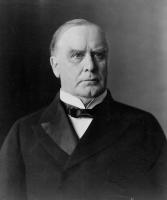 See the gallery for quotes by William McKinley. You can to use those 7 images of quotes as a desktop wallpapers.
That's all a man can hope for during his lifetime - to set an example - and when he is dead, to be an inspiration for history.
Tags: Dead, History, Hope
Cuba ought to be free and independent, and the government should be turned over to the Cuban people.
Tags: Cuban, Free, Government
Expositions are the timekeepers of progress.
Tags:
Progress
I have never been in doubt since I was old enough to think intelligently that I would someday be made president.
Tags: Doubt, Enough, Old
Let us ever remember that our interest is in concord, not in conflict; and that our real eminence rests in the victories of peace, not those of war.
Tags: Peace, Real, War
We need Hawaii just as much and a good deal more than we did California. It is Manifest Destiny.
Tags: Deal, Destiny, Good
Visit partners pages