Camille Claudel's Quotes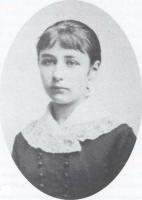 See the gallery for quotes by Camille Claudel. You can to use those 7 images of quotes as a desktop wallpapers.
Much more quotes by Camille Claudel below the page.
It is in fact agreed that I am the plague, the cholera of the benevolent and generous men who are interested in art and that, when I show myself with my plasters, even the Emperor of the Sahara would flee.
Tags: Art, Fact, Men
Last night, two men tried to force my shutters. I recognized them: they are two of Rodin's Italian models. He told them to kill me. I am in his way; he wants to get rid of me.
Tags: Last, Men, Night
When you left on Saturday, I felt a horrible void, I saw you everywhere, on the beach, in your room, in the garden: impossible for me to get used to the idea that you had left.
Tags: Idea, Impossible, Used