Carrie-Anne Moss's Quotes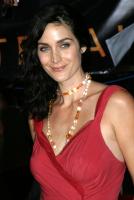 See the gallery for quotes by Carrie-Anne Moss. You can to use those 6 images of quotes as a desktop wallpapers.
Much more quotes by Carrie-Anne Moss below the page.
When you play a doctor, you have to look like you can do it but you don't actually go and do it. It's not like you learn how to cut open somebody and go do surgery. You have to think of a human being and not play the idea of what that would look like.
Tags: Human, Idea, Learn
Where it gets clear for me about the privacy issue is with my kids because they didn't choose this kind of life. I'm an incredibly open person, though - I'll tell anyone anything.
Tags: Kids, Life, Tell