Daniel J. Bernstein's Quotes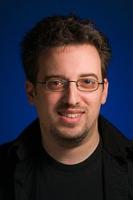 See the gallery for quotes by Daniel J. Bernstein. You can to use those 8 images of quotes as a desktop wallpapers.
I do engineering, not religion.
Tags:
Religion
I have discovered that there are two types of command interfaces in the world of computing: good interfaces and user interfaces.
Tags: Command, Good, Types
I won't be satisfied until I've put the entire security industry out of work.
Tags: Put, Until, Work
In general, the Internet was not designed to accommodate deliberate failures to communicate.
Tags: Failures, General, Internet
The average user doesn't give a damn what happens, as long as (1) it works and (2) it's fast.
Tags: Fast, Give, Happens
The most important function of a bibliographic entry is to help the reader obtain a copy of the cited work.
Tags: Copy, Help, Work
Visit partners pages