Edsger Dijkstra's Quotes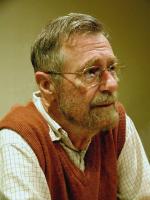 See the gallery for quotes by Edsger Dijkstra. You can to use those 7 images of quotes as a desktop wallpapers.
Visit partners pages
Much more quotes by Edsger Dijkstra below the page.
The lurking suspicion that something could be simplified is the world's richest source of rewarding challenges.
Tags: Challenges, Source, Suspicion
There should be no such thing as boring mathematics.
Tags:
Boring
I mentioned the non-competitive spirit explicitly, because these days, excellence is a fashionable concept. But excellence is a competitive notion, and that is not what we are heading for: we are heading for perfection.
Tags: Days, Perfection, Spirit