Jamie Kennedy's Quotes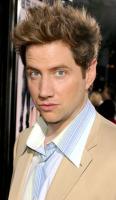 See the gallery for quotes by Jamie Kennedy. You can to use those 8 images of quotes as a desktop wallpapers.
Being in all of my relationships, I'm even more confused than I've ever been, I don't know if you ever really understand relationships.
Tags: Confused, Understand
I have to have some of my voice because I have my own experiences that I lived through.
Tags: Lived, Voice
I like doing interviews. I really do.
Tags:
Interviews
I like to be creative and I'm lucky that I have a couple of different outlets, and I'm lucky that I get to use them.
Tags: Couple, Creative, Lucky
I wasn't planning on being a comedian; I just liked to laugh. Somebody said I should do it and that's how I started.
Tags: Laugh, Said, Started
I'd like to be a wounded leading man. Instead of a pillar of strength, I'd be the scared one.
Tags: Leading, Scared, Strength
I've probably wanted to be a rapper since I was a teenager. I was an actor and comedian and stuff, but I always wanted to rap, it was another outlet.
Tags: Another, Since, Wanted
If you were the only suspect in a senseless bloodbath, would you be standing the the horror section?
Tags: Horror, Standing, Suspect
There are certain rules one must abide by in order to succesfully survive a horror movie.
Tags: Movie, Order, Rules
There are so many people in the world and not everybody knows who I am, some people do, but I just don't think a lot of people know who I am.
Tags: Everybody, Knows
Visit partners pages