Leonard Slatkin's Quotes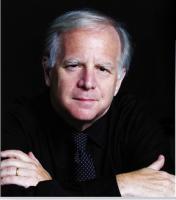 See the gallery for quotes by Leonard Slatkin. You can to use those 7 images of quotes as a desktop wallpapers.
Visit partners pages
Much more quotes by Leonard Slatkin below the page.
The conductor is the artistic leader and sometimes cultural arbiter of his or her community. It is their leadership that is looked to and should anything go wrong, they are the persons taking most of the heat.
Tags: Leader, Leadership, Sometimes
The convergence of the Rhone and Saone. Paul Bocuse. The birthplace of cinema. Chateauneuf-du-Pape just a few miles down the road. It does not get much better than Lyon.
Tags: Cinema, Few, Road
The life of any musician really doesn't fall into a normal schedule at all. Every week there are different rehearsals, different days and nights of performances, so we don't have a particular pattern that we can follow. For a conductor, it is a little bit worse because we have to allow for traveling.
Tags: Days, Life, Week