Michael Cerveris's Quotes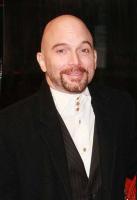 See the gallery for quotes by Michael Cerveris. You can to use those 7 images of quotes as a desktop wallpapers.
I studied voice at Yale with Blake Stern from the music school, and he had me singing German lieder and Italian songs.
Tags: Music, School, Voice
I was a big 'X-Files' fan. I always lamented that I never got to be on 'The X-Files'.
Tags: Big, Fan
My life/career is more filled with left-field thrills than I could ever have hoped for.
Tags: Career, Filled, Life
I do feel pressure. I have always been able to surprise people because they didn't know to expect anything from me. And now people are starting to have expectations.
Tags: Able, Expect, Surprise
I've never been good at making smart career decisions or doing the right strategic thing, and yet somehow it's all led me to exactly the kind of career that I would have dreamed of having - if only I'd been smart enough to dream something like that.
Tags: Career, Good, Smart
My father is a university professor so when the schools needed a little kid for their productions I was often the kid they used. The first time I was ever on stage was about 2nd grade.
Tags: Father, Often, Time
Visit partners pages