Miroslav Vitous's Quotes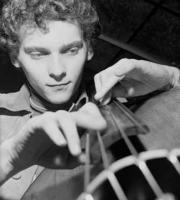 See the gallery for quotes by Miroslav Vitous. You can to use those 6 images of quotes as a desktop wallpapers.
Visit partners pages
Much more quotes by Miroslav Vitous below the page.
The main thing that those two albums have in common aside from my music, which of course, a sense of it, you can recognize, it is that the bass on Infinite Search was playing much, much less like a bass.
Tags: Less, Music, Sense
There was the best teachers from the Czech Philharmonic, highly dedicated people, some of the best musicians in the world passing on the knowledge about the country, about the principles, and about the music.
Tags: Best, Knowledge, Music
They taught us because they wanted to pass the knowledge on and educate young musicians. It was not because they had to teach because they failed as musicians. There is a huge difference in the reasons why someone is teaching and what they can offer and what they cannot offer.
Tags: Knowledge, Someone, Why