Simon Pegg's Quotes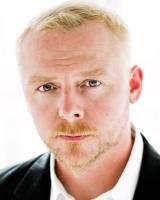 See the gallery for quotes by Simon Pegg. You can to use those 8 images of quotes as a desktop wallpapers.
Visit partners pages
Much more quotes by Simon Pegg below the page.
That's what we wanted to get across in that moment, particularly when Shaun goes to the shop when he's all hung over. He doesn't notice any of the zombies around him just because he never had before, so why should he at that point?
Tags: Him, Moment, Why
There are a lot of visual marks that have to be hit, and lines that need to be said in a right way - so there wasn't really any improvisation on the set when it came to the bulk of the script.
Tags: Hit, Lines, Said