Bernie Worrell's Quotes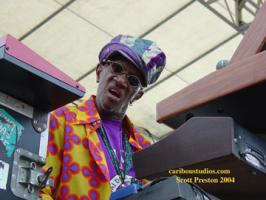 See the gallery for quotes by Bernie Worrell. You can to use those 8 images of quotes as a desktop wallpapers.
I got private lessons in keyboard at Julliard, before New England Conservatory of Music in Boston.
Tags: England, Music, Private
I was born in Long Branch, New Jersey, and no one had ever taught anybody that young, back in those days.
Tags: Born, Days, Young
People like my voice and say I can sing, but I don't like microphones in front of my face: it distracts me.
Tags: Face, Sing, Voice
The radios are going to dictate. That's another fight. That's another story there. I wish they just let it be.
Tags: Another, Fight, Wish
As far as arrangements after the basic track is cut, if I'm writing a horn arrangement or playing strings, I might arrange that, plan that out. Other times, I'll just sit and roll tape.
Tags: After, Far, Writing
Woo means the ability to entice someone or something to get what you want. My first solo album was called: All the Woo of the Universe, which was titled by George Clinton.
Tags: Means, Someone, Universe
Visit partners pages