Harry Melling's Quotes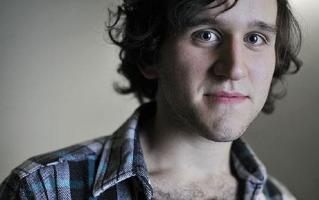 See the gallery for quotes by Harry Melling. You can to use those 8 images of quotes as a desktop wallpapers.
I am a really bad traveler, I hate traveling and I hate being late so I figure if I could just click my fingers and be somewhere then that would be great!
Tags: Bad, Great, Hate
I can now shed the child-actor thing, like the fat, and start a new career, because no one sees me as Dudley.
Tags: Career, Fat, Start
I've also just finished filming the role of Robert Brown in 'Just William,' which is due to transmit on BBC One at Christmas.
Tags: Finished, Role
It doesn't have to be a problem for children to be fat, but it does affect you: you aren't as happy in that skin.
Tags: Children, Happy, Problem
I am not sure how much Dudley will feature just because of the grand scale of the film and the fact that there are so many stories and characters to tie up. I haven't seen the film yet but I think it will be a blink-and-you'll-miss-it moment, but it was nice just to round it off and give it some closure.
Tags: Give, Moment, Nice
I do look a bit different because Dudley was a very piggish character and about three years ago I lost quite a considerable amount of weight. It means that I can lead a normal life without the baggage of people running after me and shouting things at me.
Tags: Character, Life, Lost
I was doing a show at the National Youth Theatre, playing an old man. Before that I had played fat clowns and I thought, 'If I want to have the career I would like, I am going to have to lose weight.' I was just starting drama school, and found I was moving around a lot. I also started to eat sensibly. The weight just dropped off.
Tags: Career, Moving, School
Toffee Crisp was my downfall. I once ate five at a sitting. Do you really need that third helping, Harry? My parents didn't overfeed me, nor did they make an issue of it. That's when things go wrong. It doesn't have to be a problem for children to be fat, but it does affect you: you aren't as happy in that skin.
Tags: Children, Happy, Parents
These things will destroy the human race: politics without principle, progress without compassion, wealth without work, learning without silence, religion without fearlessness and worship without awareness.
Tags: Politics, Religion, Work
It is a great mystery that though the human heart longs for Truth, in which alone it finds liberation and delight, the first reaction of human beings to Truth is one of hostility and fear!
Tags: Fear, Great, Truth
People mistakenly assume that their thinking is done by their head; it is actually done by the heart which first dictates the conclusion, then commands the head to provide the reasoning that will defend it.
Tags: Done, Heart, Thinking
Visit partners pages