Lizz Winstead's Quotes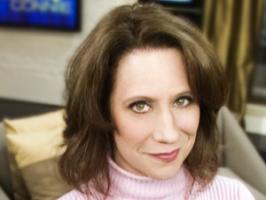 See the gallery for quotes by Lizz Winstead. You can to use those 8 images of quotes as a desktop wallpapers.
It just seems OK these days to throw women under the bus. Like we're a bargaining chip.
Tags: Days, Seems, Women
Opportunities present themselves to me. That's how my whole life has been pretty much. I've been lucky.
Tags: Life, Pretty, Whole
The political satirist usually votes against their own interests, but the bottom line is that it doesn't really matter.
Tags: Against, Matter, Political
We live in a nation where corporations are people.
Tags:
Nation
We've got a deeply flawed political system with an insane overreaching extremist element, with a Supreme Court that is completely loony.
Tags: Insane, Political, System
I do a lot of reading of news so I can be smarter, and I do a lot of watching TV news so I can know why Americans aren't very smart. Then I can point out the hypocrisy of politicians or the media.
Tags: Point, Smart, Why
Visit partners pages