Paul LePage's Quotes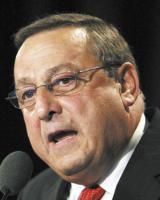 See the gallery for quotes by Paul LePage. You can to use those 8 images of quotes as a desktop wallpapers.
The people of Maine were tired of being in debt and tired of being overtaxed.
Tags: Debt, Maine, Tired
And my response is 70,000 people in the state of Maine that paid income tax in 2011 will not be paying income tax in 2012.
Tags: Paid, State, Tax
I'm saying the federal government is taking away the freedom of Americans to make choices.
Tags: Freedom, Government, Saying
What I'm trying to say is the Holocaust was a horrific crime against humanity and frankly, I would never want to see that repeated.
Tags: Against, Humanity, Trying
Visit partners pages