Beau Mirchoff's Quotes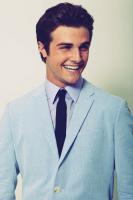 See the gallery for quotes by Beau Mirchoff. You can to use those 5 images of quotes as a desktop wallpapers.
A girl who is interesting and educated and can spark conversation - I find that extremely sexy.
Tags: Educated, Girl, Sexy
I missed a lot of school for auditions, but other than that I had a very normal childhood.
Tags: Childhood, Normal, School
When I was probably 5 or 6, my mother put me into an acting, singing, and dancing class.
Tags: Acting, Mother, Put
When people are nervous, some people move around. Some people scratch their leg.
Tags: Move, Nervous, Scratch
I remember actually liking a girl in high school who was kind of an outcast and weird, and people made fun of her. I remember hanging out with her, but I was apprehensive about telling anyone I really liked her.
Tags: Fun, Girl, School
Visit partners pages