Bruce Vilanch's Quotes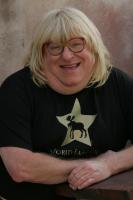 See the gallery for quotes by Bruce Vilanch. You can to use those 7 images of quotes as a desktop wallpapers.
Eddie Izzard is absolutely brilliant. I would love to write something for him.
Tags: Him, Love, Write
I do a lot of screen re-writing.
Tags:
Screen
I've written about 15 screenplays and they all sold - they were all sold on pitches.
Tags: Pitches, Sold, Written
Generally with the Oscars or the Emmys there isn't much you can do until the nominations are announced. Then you know what kind of year you're dealing with - what's been overlooked, what the issues are.
Tags: Issues, Until, Year
I mean, I've sold all these scripts and nothing's been made. Studios have closed, stars have died. I had a director find Jesus. And the pictures just don't get made.
Tags: Jesus, Mean, Stars
I mean, when I started out I was billing per hour, like a shrink because you would sit with somebody and work. But most of it, if it's for a live show it's usually a buy-out. A flat fee.
Tags: Mean, Show, Work
I write screenplays that don't get made and pilots that don't get picked up, and I re-write other people's movies, and those are all different kinds of fees.
Tags: Kinds, Movies, Write
It's the biggest party in the world, and you have to keep the whole thing percolating, which is difficult because a lot of awards most people don't care about.
Tags: Care, Difficult, Keep
They make a humongous profit, but the people that work on the shows don't get paid a lot because they're working on the Oscars show. It's the biggest show in the world.
Tags: Show, Work, Working
Visit partners pages