Gail Devers's Quotes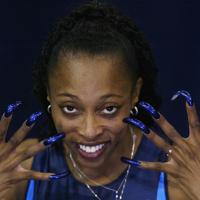 See the gallery for quotes by Gail Devers. You can to use those 7 images of quotes as a desktop wallpapers.
Keep your dreams alive. Understand to achieve anything requires faith and belief in yourself, vision, hard work, determination, and dedication. Remember all things are possible for those who believe.
Tags: Dreams, Faith, Work
I have to be cautious, have my thyroid levels checked, and as long as I do that, I'm fine.
Tags: Cautious, Checked, Fine
I was blessed with a long career where I won gold medals for myself and my country. Nothing stands out as a disappointment.
Tags: Blessed, Career, Country
I was diagnosed with Graves' disease, an illness of the thyroid gland. Instead of surgery, I was given radiation treatment.
Tags: Disease, Illness, Surgery
It's a challenge between me and the hurdle, and the hurdle has always won.
Tags: Between, Challenge, Won
It's totally different now, traveling to different meets and different cities and actually being able to enjoy the cities I'm in.
Tags: Able, Actually, Enjoy
Looking back, I'm so proud to have gone to five Olympics - I believe only three other Americans have achieved that.
Tags: Looking, Proud, Three
My grandma passed away at 98 1/2 and I want to live to 100. I want to be able to do what I can do even at 100.
Tags: Able, Away, Grandma
We go old-school during the summer, like swimming or setting up lemonade stands. I try to teach my kids to make their own fun.
Tags: Fun, Kids, Try
I have a real passion for children. I always wanted to teach and only became an athlete because my parents told my brother Parenthesis and me that we should use any God-given talent we had.
Tags: Children, Parents, Real
People see me now and ask if I'm still running. I may look like I am, but I'm really not. People think I still run every day but I ran for 25 years and I deserve to not do anything but walk or ride the bike with my kids.
Tags: Kids, May, Walk
People talk about retiring. I never said that r-word. People though I went away after the Olympic Games. I took time off to do something I've always wanted to be - a mother.
Tags: After, Mother, Time
Visit partners pages