Karl Pilkington's Quotes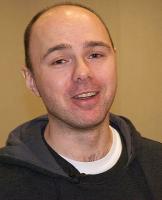 See the gallery for quotes by Karl Pilkington. You can to use those 8 images of quotes as a desktop wallpapers.
Visit partners pages
Much more quotes by Karl Pilkington below the page.
I'd say the best is when I was in Africa, I saw a hippo in a house. Someone had a pet hippo. And they're meant to be one of the most dangerous animals on the planet, and they had one that was sort of just wandering in and out of their house, just sort of roaming about.
Tags: Best, Pet, Someone
I am into nature and seeing whales. I went whale-watching, and I was really looking forward to that, but when you see it on TV and you see other programs do it, you're seeing close-ups of these massive creatures, and the music that's added gives you a certain feeling.
Tags: Forward, Music, Nature