Miranda Kerr's Quotes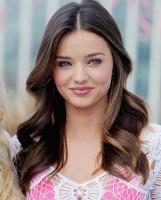 See the gallery for quotes by Miranda Kerr. You can to use those 4 images of quotes as a desktop wallpapers.
For me it's all about keeping things simple and feeling comfortable in what I am wearing. I prefer investing in classic well-tailored pieces.
Tags: Feeling, Keeping, Simple
I believe in celebrating the female figure and embracing what we've been given, not hiding that.
Tags: Female, Figure, Hiding
I grew up sitting beside my grandmother playing the piano and singing.
Tags: Piano, Playing, Singing
I have a weird sense of humour. My dad's the same. We love watching 'Monty Python' together.
Tags: Dad, Love, Together
I live by the 80/20 rule: I'm 80 percent healthy, and then 20 percent indulgent.
Tags: Healthy, Percent, Rule
I live by the philosophy that beauty starts from within, and I make a conscious effort to fill my body with nutrients through the food I eat.
Tags: Beauty, Food, Philosophy
I really feel that my body craves to be in the mountains or by the ocean or in the countryside.
Tags: Body, Mountains, Ocean
My goal involves a hammock, a vegetable patch, and a solar-powered house. And I hope to eventually get there.
Tags: Goal, Hope, House
When I was young I wanted to be a gymnast. I used to compete at it, but then I grew too tall.
Tags: Used, Wanted, Young
Everyone has a different beauty and different qualities and I think that women need to learn to love their qualities and be comfortable in the fact that everyone is different.
Tags: Beauty, Love, Women
Visit partners pages
Visit partners pages
Much more quotes by Miranda Kerr below the page.