Dan Stevens's Quotes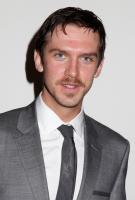 See the gallery for quotes by Dan Stevens. You can to use those 4 images of quotes as a desktop wallpapers.
People look at me, they know I've appeared in costume dramas and they automatically assume I must be a Tory, I must be a certain type of person.
Tags: Assume, Costume, Dramas
Soap opera seems to be a dirty word, but actually they are the most popular shows we have.
Tags: Actually, Seems, Word
What was interesting was talking to older gay men about what it was like being gay in the Eighties.
Tags: Gay, Men, Older
When it is good, theatre takes a lot of beating both to watch and perform.
Tags: Both, Good, Theatre
As long as I am given the opportunity to keep performing and keep exploring in whatever medium, I'll be happy. As long as I get to spend time with my family, I'll be happy. As long as I can write in some form, I'll be happy. It is the essential things like that I equate with happiness.
Tags: Family, Happiness, Time
At 13, in my first year of Tonbridge, I went up for the part of Macbeth. I was up against the 17- and 18-year-olds, but for some reason I got the part. It made me incredibly unpopular with my peers, but it was the English and drama teachers who stepped in to save me when others wanted me kicked out of the school.
Tags: Others, Reason, School
At the age of 11 I was about 6 ft. tall and my voice had completely broken. That caused problems. I was this gangly, spotty, very unattractive kid. I wasn't cool and I wasn't a nerd. I didn't even want to fit in with anyone.
Tags: Age, Broken, Cool
But even writing the column for the 'Telegraph,' that idea of working to deadlines, which as an actor that's not something you have to do in the same way. It's excited me into wanting to do a bit more.
Tags: Idea, Working, Writing
Every night, half an hour before curtain up, the bells of St. Malachy's, the Actors' Chapel on New York's 49th Street, peal the tune of 'There's No Business Like Show Business.' If you walk the streets of the theatre district before a show and see the vast, enthusiastic lines it sounds like a calling: there is certainly no place like Broadway.
Tags: Business, Night, Place
I have only recently got interested in film, and it is a strange way of working in many ways. But actually, when it is at its best, it's quite an extraordinary way of working between a director and an actor, to really explore an inner life.
Tags: Best, Life, Strange
I haven't done as many films as I would have liked. A lot of my contemporaries have done more. I don't have 'I will be a movie star' emblazoned on anything, but I'd like do a bit more screen stuff and then when the time is right come back to theatre. When it is good, theatre takes a lot of beating both to watch and perform.
Tags: Done, Good, Time
I never quite toed the line. I was a bit disruptive. All my early school reports from the age of 5 were 'Daniel must learn not to distract others.' And now, that's what I do for a living.
Tags: Age, Living, School
Visit partners pages
Visit partners pages
Much more quotes by Dan Stevens below the page.