Mae Whitman's Quotes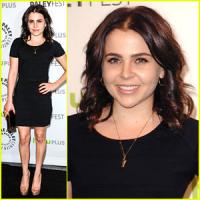 See the gallery for quotes by Mae Whitman. You can to use those 7 images of quotes as a desktop wallpapers.
Much more quotes by Mae Whitman below the page.
The actual, original 'Teenage Mutant Ninja Turtles,' I have vague memories of because I was pretty small, but I loved, loved, loved it. I have only those weird, visceral little-kid memories: I remember the extreme flat, two dimensional green that was their skin or the weird pizza with no sauce - it was just like yellow, drippy cheese.
Tags: Pretty, Remember, Small
The coming-of-age story has sort of become a joke. It's something to capitalize on, and that is painful because when you are coming of age - when you are going through something like that - the genre is so meaningful.
Tags: Age, Become, Joke